This is the actual size of Mark's hand. It was hard to get his hand flattened out enough to take the prints so we only got his right hand. I love to place my hand over the actual print and imagine I'm touching his hand or giving him a high five for a job well done. And he must have done a good job with his life because his life's mission was over in just 5 1/2 days! I had a good laugh trying to clean the ink off Mark's hand and feet. Moms of boys are always trying to scrub their hands and feet!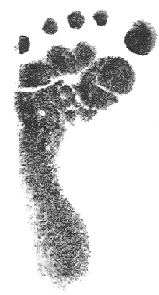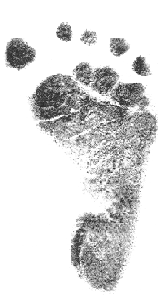 The actual size of Mark's feet. Aren't they perfect?
Here's Mark with "Baxter," a stuffed dog that was given to him by my co-workers. I worked for the San Diego City Attorney's Office at the time, and every attorney and clerk prayed and sent their love to us. They were amazing people. The stuffed heart hanging from the dog's mouth says, "I love you." They had made a tag that says WE and taped it over the "I" in "I love you." Many of these wonderful people came to Mark's funeral, and I will never forget their kindness.

My brother, Michael, is holding his first nephew. He couldn't wait to see him and immediately asked to hold Mark. Michael wasn't a bit afraid of the tubes and wires. He was in his own little world with Mark as he held him, unaware that Mark would die very quietly a few minutes later. We had scheduled to turn off the respirator at 2pm while I held him. Mark, as his nurse had said to my mother the day before, made his own decision and died in Uncle Mike's arms, December 16, 1982 at 1:58 pm, 2 minutes before we had scheduled to terminate life support.
This is Mark's last picture. I held him one last time. The nurses removed the tape and respirator, and I finally got a look at Mark's beautiful face without all the machinery. Finally, I could see ME in his little face. He had my nose and mouth but we couldn't tell that because of the tape and respirator. Even the nurses noticed the resemblance. The pictures don't do him justice; he truly was a beautiful baby and perfect in every way except a brain that was deprived of oxygen for too long.

I'm forever grateful I got to be this child's mother if only for five days, 12 hours, and 34 minutes.

Click here to go to the next page in our album. Click here to go to the first page in our album.

On Mark Adam's website:

Thank you for visiting!